The new accolade recognises DD Cooling as one of the limited number of businesses in the North West to reach the highest possible standards, in both the design, supply of equipment and the installation and workmanship across the heating, ventilation, air conditioning and cooling industry.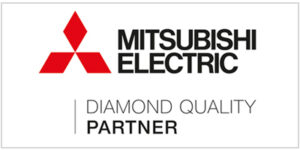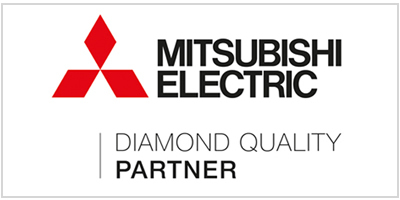 Following an air conditioning installation at Franke Bearings of Longridge, DD Cooling have met the high standards set by Mitsubishi Electric, to be accredited as a Diamond Quality Partner (DQP). As a mark of excellence, independent audits were conducted to inspect these standards and commitment to excellence. As a DQP installer DD Cooling will now be able to offer a 7-year parts warranty on their air conditioning systems, benefiting from the highest level of endorsement and support that Mitsubishi Electric can offer.
Dave Dobson, Director of DD Cooling commented: "With increasingly tough legislation and a stringent focus on energy efficiency in buildings, today's forward-thinking businesses need absolute confidence that they are using the most advanced and energy-efficient heating, ventilation and air conditioning systems possible. During the installation at Franke Bearings independent auditors reviewed our company thoroughly, looking at everything, from the way we run our business to the way we managed and train our staff. The auditing process rigorously examined our internal quality assurance processes, as well as the tools and equipment provided. We are committed to the quality of our service and are pleased to now be a fully accredited Mitsubishi Diamond partner."
The project for Franke Bearings involved the installation of the latest HVRF (Hybrid Variable Refrigerant Flow) R32 System. Franke Bearings requested a system that was fit for future purpose, due to the ever-increasing pressure to reduce carbon emissions and demand for energy efficiency. With water at the indoor units and a low GWP R32 refrigerant between the outdoor unit and HBC, the Hybrid VRF provided comfortable and stable air temperature control with no refrigerant in occupied spaces, meaning simple compliance to BS EN378 and removing the need for leak detection. The installation of the innovative HVRF R32 was a perfect project to be inspected for Mitsubishi Diamond accreditation.
Now endorsed by Mitsubishi Electric as a Diamond Quality Partner, DD Cooling are committed to raising industry standards to ensure their customers benefit from the highest levels of service. The accreditation means that DD Cooling have been independently recognised as meeting and exceeding the highest industry standards.